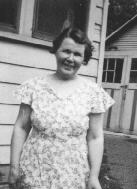 Lillian M. (Simpson) Hayes
My great grandmother was Lillian Melinda (Simpson) Hayes. She was the daughter of J. Edgar Simpson and Georgianna McGregor.

J. Edgar Simpson was born May 17, 1837 in Brighton, Ontario, Canada. He was the son of Jeremiah Simpson and Jerainy Wees. They were part of the Simpson family who originally settled the town of Brighton.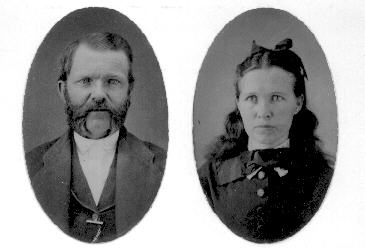 J. Edgar and Georgianna (McGregor) Simpson

J. Edgar Simpson and Georgianna McGregor had eight children. They were (1)Edward, (2)Sophia, (3)Edith, (4)Viola, (5)Ella, (6)George, (7)Lillian, and (8)Maude. The family originally lived in Canada, but later moved to eastern Michigan. They lived mostly in the Bay City area. J. Edgar Simpson was also known as "Daddy Simpson". He died on November 3, 1919 at the county farm.

Over the years I have attempted to track down descendents of J. Edgar Simpson and Georgianna McGregor. I have had some luck, but not much. So, if you can help, please email me. In order, I have not found any information on the descendents of Edward. With Sophia, I was lucky enough to track down Augusta Denio, the daughter in law of Sophia (Simpson) Denio. I spent an afteroon with her in the early 1990's sharing pictures and stories. There are still some living descendents in Michigan. Edith had one son Emerson who died in the early 1970's. Viola had two children, Richard and Dorothy. I was able to track down the son of Richard Stauffer, William, who now lives in Missouri. Ella was married to Charles Geist and had one son Claude. I have never found more information on him, although he did live in the Chicago area at one time. George had two sons that I'm aware of, and possibly a daughter. I have not found any descendents of George. His two sons were George L. Simpson Jr. and Ross Simpson. I found a few internet posts from Ross Simpson but I could not determine where he lived. Maude had two daughters. One names Lillian who married to a Frank Graff. The other is Marian who died in Hillsdale, Michigan. For more information on Lillian (Simpson) Hayes, please click on here.

J. Edgar's Father Jeremiah Simpson was born March 16, 1792 in Westchester County, New York. He was the son of Obediah Simpson and Mary Lord. Obediah was the founding father of Brighton. The Simpson Family is known in Brighton as "The First Family of Brighton". How did they get from New York to Canada? Following the American Revolutionary War of 1776, United Empire Loyalists (UELs), colonists who had sworn allegiance to the Crown, were expelled from the newly-formed United States. Many UELs moved their families north into what would become Canada. Our ancestor, Obediah Simpson, was one of them. Jeremiah's mother, Mary Lord was rumored to be of the famous Lord family who founded the "Lord and Taylor" department stores. Jeremiah Simpson was one of six children of Obediah and Mary Simpson. I won't go into to much detail as the majority of information can be found on the homepage of Neil Simpson. He is also a descendent of Obediah Simpson who still lives in Canada. There is hours and hours full of information on the site, including maps, Obediahs Last Will, and stories of the UEL's.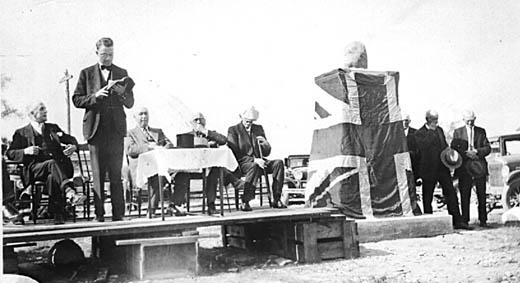 Simpson Cairn Dedication 1931
A strange incident happened in April 2002 involving Jeremiah Simpson. Due to erosion, what is believed to be the remains of Jeremiah Simpson was unearthed along the Syndenham River, in Ontario, Canada. At last word, the government was attempting to correct the problem and once again give our ancestor a proper burial.
---
SIMPSON LINKS

The Life and Death of Gregor McDougle
My very own source of info on our relative who was executed in Noble County, Indiana

The Simpson Shack - Obediah Simpson Genealogy
Neil Simpson's "Simpson Shack", Complete information on Obediah Simpson

Laurie Taub's Family Page
Simpson Relative Laurie Taub and her connection to the world

Greig Family Home Page
Simpson Relative Bob Greig and his families page

Georgianna McGregor was the daughter of George McGregor and Sophia Huffman. She was born on March 19, 1844 in Ontario, Canada. Georgianna was the youngest of six children, (1)Jane, (2)Henry, (3)Catharine, (4)Susannah, (5)Deborah, and (6)Georgianna. Georgianna was married to J. Edgar Simpson on January 12, 1864. She died at the home of her daughter Viola, in Fort Madison, Iowa on July 24, 1916.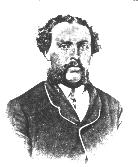 George McGregor
Georgianna's father George McGregor was born in 1803 in Nova Scotia, Canada. He was the son of John McGregor and Mary McMillan. He was married to Sophia Huffman on April 9, 1832 in Ontario, Canada. The 1871 Canadian census lists George as a Farmer of Scotch origin. It also lists his religion as 'Free Will Baptist / Free Christian' George died in April of 1873 on the Thames River in Ontario, Canada.
One of the most interesting stories I have come across during my family research is the story of George McGregors nephew, McGregor McDougle. Also known as Gregor McDougle, and Blackhawk McDougle, he was the first and only person to be publicly executed in Noble County, Indiana. I have dedicated a page to the life and death of Gregor McDougle. You can read his story by clicking here.
Georgianna's mother Sophia Huffman was the daughter of Rudolph Huffman and Rebecca Wise. Sophia Huffman was born about 1800 on Lake Erie in the county of Essex, Ontario, Canada. She died in 1877 in Chatham Gore, Ontario, Canada. The Huffman family was from Washington County, Pennsylvania. The family is of German descent. Rudolph Huffman was the son of Rudolph Huffman Sr. and Dorothy Weiss.
George McGregor's father, John McGregor, was born 1774 in Willamston, Ontario, Canada. He was a Captain of the Royal Scots who served in famous battles such as the battle of the Thames in 1813. For his service in the Canadian Military (in which he lost an arm), John McGregor was given 850 acres of land in Chatham Gore Townhsip, Ontario, Canada. The McGregor family is of Scottish descent, and is believed to be connected to Rob Roy.
Simpson Family Photos

Click to view the photograph

Lillian Melinda Simpson
Baby picture of Lillian who later married Ben E. Hayes

Daughters of J. Edgar and Georiganna (McGregor) Simpson


Photograph of five out of the six Simpson girls: Sophia, Lillian, Ella, Edith, Maude and Viola Simpson as young women. (unknown which one is missing)

Wedding photo of Ben and Lillian, taken on June 1, 1902.

Lillian and Maude Simpson


This is a photograph of Lillian (Simpson) Hayes and Maude Simpson, unknown year.

Edith and Viola Simpson


Photograph of Edith and Viola Simpson, unknown year.

Sophia (Simpson) Denio


Photograph of Sophia Simpson, oldest daughter of J. Edgar and Georgianna (McGregor) Simpson.

Stauffer Christmas Card


Photograph Christmas card of Viola (Simpson) Stauffer, her son Richard and daughter Dorothy Stauffer.

222 W High St, Jackson


One of the residences of Ben E. and Lillian M. (Simpson) Hayes

Simpson Newspaper Article


Article that appeared in the Fort Madison, Iowa newspaper about Viola, Lillian and Ella Simpson.



---

Augusta (Ostrander) Denio


Daughter-in-law of Sophia Simpson, taken in front of the farm in West Branch, Michigan.

Children of Viola (Simpson) Stauffer


Richard and Dorothy Stauffer, the children of Viola (Simpson) Stauffer.